PCB's New 4 Channel ICP Signal Conditioner with Expanded Features
New signal conditioner provides added application flexibility
John Morris Industrial introduces the new 4 channel ICP Signal Conditioner Model 482C24 by PCB Piezotronics.
When using ICP  force or pressure sensors, Model 482C24 provides:
DC coupling (specified on a per channel basis) allowing temporary measurements down to 0 Hz for capturing long pulse durations when using a sensor with a long discharge time constant.

A clamped output feature (when AC coupled), used in repetitive force applications, provides a positive-only signal that electronically re-zeros each pulse before the next cycle.

Measurements 0 Hz to 100 kHz with AC/DC coupling selection per channel

Auto zero function to negate DC bias when DC coupling enabled

Positive peak performance measurements with clamped output in 

AC coupled mode 

Incremental gain from x0.1 to x200

AC/DC coupling selectable per channel

TEDS support

Front panel display and keypad

CE conformity 
Typical applications include:
Use with ICP force, and pressure sensors that have long discharge time constants

Stamping and press monitoring 

Machinery process monitoring

Material fatigue testing

Low frequency vibration testing
The 482C series of signal conditioners are 4 channel bench top units. The 483C series of signal conditioners are 8 channel rack mounted units. The same signal conditioning electronics are used in comparable 4 and 8 channel models.
Both series include basic stand-alone units as well as units with more powerful features such as a front panel keypad and display or an Ethernet port for computer control. Additional features include gain, filtering, LED fault indicators, and TEDS capability.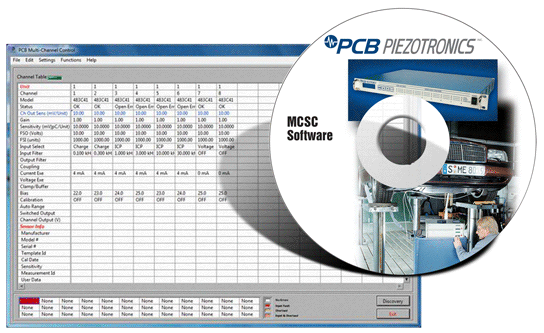 MCSC Control Software
All signal conditioners that have an RS-232 or Ethernet interface are supplied with PCB's Multi-Channel Signal Conditioner control software. This easy to use software displays a table of the unit's current settings for each channel. Users can change any setting by simply changing values in the table. Controllable settings include sensor input type, gain, filtering, and excitation current.
Want to know more about PCB Model 482C24?
Our Industrial Solutions team would love to hear from you
Phone free call AUS 1800 251 799 and free call NZ
0800 651 700


Email:  industrial@johnmorris.com.au
NEW WEBSITE: johnmorrisgroup.com/AU/Industrial

About PCB Piezotronics, Inc.

PCB Piezotronics, Inc. is a global manufacturer of  microphones, vibration, pressure, force, torque, load, and strain sensors, as well as the pioneer of ICP® technology. This instrumentation is used for test, measurement, monitoring, and control requirements in automotive, aerospace, industrial, R&D, military, educational, commercial, OEM applications, and more.   John Morris Industrial proudly stands behind PCB products, a global distribution network, a best in class warranty and Total Customer Satisfaction.